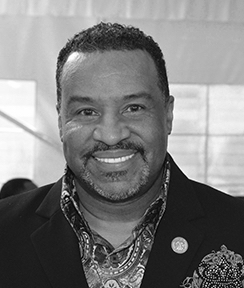 Visionary, Anointed, Trailblazer, Author and Songwriter are just some of the words used to describe Apostle H. Daniel Wilson. As Senior Pastor of Valley Kingdom Ministries International, for over 33 years, Apostle Wilson accepted the responsibility to diligently lay the proper foundation as directed by the Holy Spirit, to progress the body of Christ through the vision of "Advancing the Kingdom through the Seven Mountains of Power & Influence." Apostle Wilson's mission is helping others understand the importance of invading and infecting so that the body of Christ can affect society in the seven areas of business, government, religion, arts and entertainment, media, family and education. (Rev. 11:15)
With his unique blend of cutting-edge revelation and his innovative preaching style, Apostle Wilson has traveled throughout the United States as well as internationally to such places as Brazil, Kenya, Nigeria, Ghana, Singapore and various other nations, establishing the Kingdom of God to have rule,
dominion and authority on the Earth until Christ returns. Apostle Wilson is also the Spiritual Father for over 150 sons and daughters in ministry, both nationally and internationally.
In addition to his ministry accomplishments, Apostle Wilson has also experienced success as a businessman and entrepreneur. A graduate of Bowling Green State University with a Bachelor of Arts degree in Communication; Apostle Wilson is the Founder of Maranatha Ministries, Inc., where he tenaciously teaches and imparts the message of the Kingdom and its life-changing principles through CDs, DVDs and books. Apostle Wilson is also the CEO of Kingdom Entertainment Group, whose mandate is to produce films, docudramas and theatre productions to impact a generation through media. The mantra of Kingdom Entertainment Group is entertaining the world as we change the world.
Apostle Wilson serves on the executive counsel for the International Coalition of Apostolic Leaders (ICA) under John P. Kelly. Apostle Wilson is a member of the Board of Directors of the Community Impacting Business Network Foundation (CIBN) headed by Prophet Bill Hammond. He is also the 7 Mountains Overseer for Global United Fellowship under Bishop Neil C. Ellis.
Apostle H. Daniel Wilson is married to Beverly L. Wilson, who serves with him in ministry as Director of the Mountain of Government as well as Executive Pastor at Valley Kingdom Ministries International. They have two children and four grandchildren.
Toll-free
800-835-7979
(US callers only)
Hours
Monday – Friday 10:00 a.m. – 4:00 p.m.
(Pacific Time Zone)